User and Entity Behaviour Analytics: Protecting your organisation from within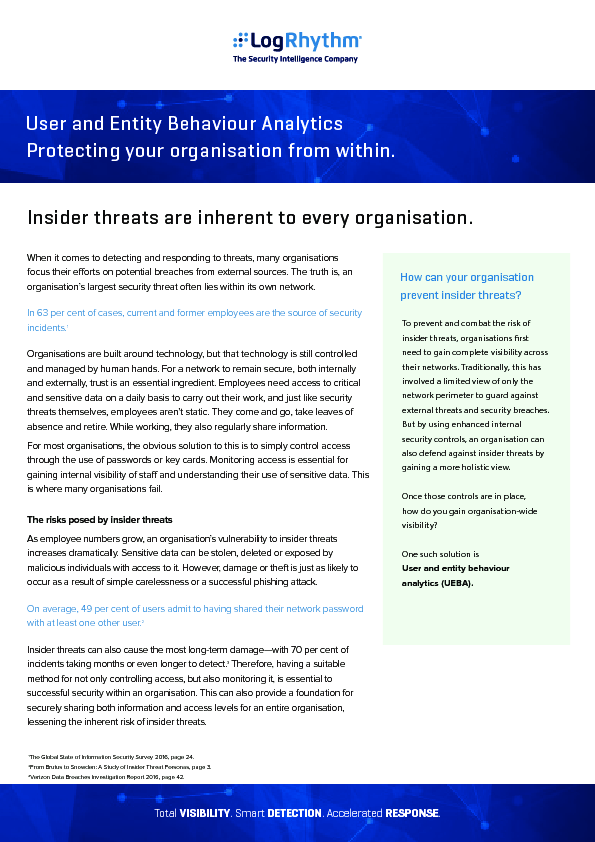 Client: LogRhythm EMEA
Format: Whitepaper
Size: 158 KB
Language: English
Date: 02.08.2018
Description
Organisations are built around technology, but that technology is still controlled and managed by human hands. For a network to remain secure, both internally and externally, trust is an essential ingredient. Employees need access to critical and sensitive data on a daily basis to carry out their work, and just like security threats themselves, employees aren't static. They come and go, take leaves of absence and retire. While working, they also regularly share information.
For most organisations, the obvious solution to this is to simply control access through the use of passwords or key cards. Monitoring access is essential for gaining internal visibility of sta and understanding their use of sensitive data. This is where many organisations fail.
UEBA is a powerful tool for detecting and responding to threats posed by internal users. Not only does it help businesses uncover threats, it helps prioritise and neutralise them in an e ective way by tracking every action each user makes. This goes several steps beyond what most log systems currently track.